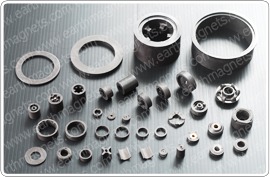 It is a mixture of resin (PA12, PPS) & the Molded NdFeB magnetic powder, after mixing together with the additive, injection produced the magnet is called Injection NdFeB magnet.

The size of Molded NdFeB magnet is small, the magnetic power is high, especially when there is a thin-wall magnetic ring, complex shape precision magnetic accessories etc.

For those precise sizes that cannot be produced by the compression and bonded NdFeB. Owing to the fact that the micro motor is becoming small and compact, especially the brushless motor, they are looking for very high standard of sizes requirements, magnetic power and reliability, therefore, the Injection Molded NdFeB magnet can best fit their requirements.