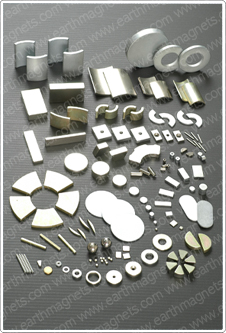 Nd-Fe-B permanent magnet material, discovered in 1983 as the third generation of rare- earth permanent magnet, is the strongest magnet in the world.

Mainly made from rare earth Neodymium-Iron-Boron.

With high residual magnetism, high coercive force and high magnetic energy product.

Can be coated by white Zinc, color Zinc, Nickel, Nickel-Cu-Nickel, Gold, Passivated, and Epoxy.

Those coatings can protect the magnet and against oxidization.
Can be machined by grinding, electronic wire cutting, cutting, drilling methods and so on.