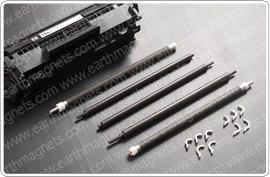 Magnetic roller is the core component of the laser printer, it is made of the Injection Ferrite magnetic core and the aluminum sets. It is concisely produced by injection molding machine, the quality is perfected as good as those produced from the factories in Japan.

Due to the raw materials such as resin are imported from Japan, relative to those magnetic roller produced in other China factories, our products are comparatively higher magnetic power, more accurate magnetic angles, higher reliability, more smooth outlook and high precision size, etc.

If it is matched with the aluminum sets in the magnetic roller, it can reach the best printing standard and the printed images are much better resolution and sharp.

We have also possessed most advanced testing instruments for inspecting each production lots in an very tight inspection requirements, which included the axial angles, the magnetic angles and the magnetic power value, etc. Our excellence quality was appreciated and recognized by many local and overseas customers.

We have now magnetic roller model number EMR-07 as per in the appendix. Custom drawings from customers are welcomed to quote.