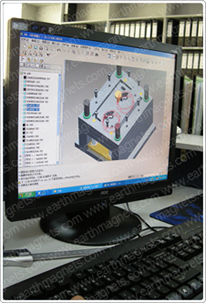 Molding is important for the injection magnets to make a form. The physical features of the magnets will be affected by a good or bad moldings.

Due to the fact that there is a big difference between the injection moldings and the normal plastic moldings, therefore, the raw materials of the moldings to be selected, the injection systems, the removal molds, the temperature controls are very important.

The injection molding team of the Earth Magnets are professional and well experienced in design and production of the moldings. With the combination of the advanced technologies from Japan, the produced moldings are highly efficiency, the process of production will be user friendly so that it can satisfy the production of those concise sizes, high efficiency and high reliability injection molding magnets.

We can provide research & development solutions and molding production for the overseas injection magnets' factories.